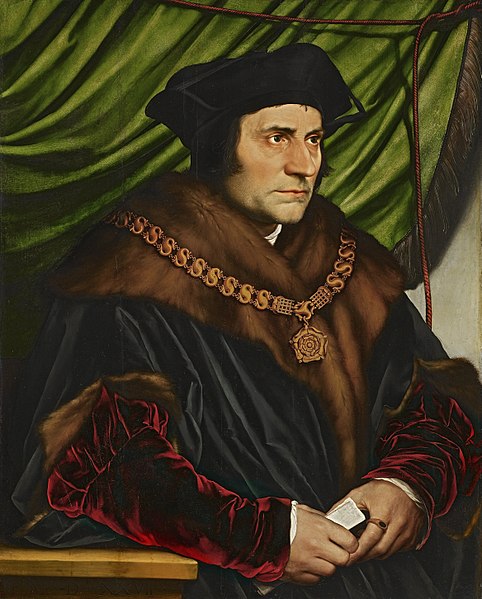 St. Thomas More was born in London on February 7, 1478. During his childhood, he rigorously studied religion and the classics. In 1492, he attended Oxford to study law. He considered becoming a priest, but he decided he could not deny the married state and wished to be a chaste husband rather than an impure priest.
In 1501, he was elected to Parliament. Four years later he met and married his first wife Jane Colt. Together they had three daughters, Margaret, Elizabeth, and Cecilia, and one son, John. In 1511, Jane died an early death. Soon afterwards, More married a widow, Alice Middleton, to be a mother to his young children.
More spent the next several years working in embassies that took him away from England for many months. It was during this time he wrote the famous Utopia.
St. Thomas More became a friend of King Henry VIII who knighted him and eventually made him Lord Chancellor in 1529. More resigned in 1532 after opposing Henry on the matter of royal divorce and refusing to swear the Oath of Supremacy that declared that Henry VIII was the head of the Church in England rather than the Pope. He was imprisoned in the Tower of London where he continued to write and pray, still defending the the pope's supremacy and Catholicism within the realm.
On July 1, 1535, More was indicted for high treason before a special commission. He was found guilty and sentenced to be executed. On July 6, he was beheaded. His body is buried in the Church of St. Peter ad Vincula in the Tower of London.