The High School of Saint Thomas More: Chaplain's Welcome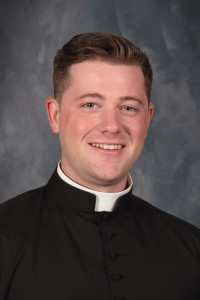 My name is Fr. O'Brien, and to me the title that comes before my name is the most important thing about me. It sounds quite egotistical when put into text, but in no way am I saying that the title "Father" makes me better than anyone else. Rather, it tells you what I'm about and what matters most to me. When I discovered in a very real way that God had made me, that He knows me, and that He loves me, my life changed for the better. I began to experience the joy of serving my neighbor rather than being stuck in the rut that follows living for oneself. I began to experience the peace that comes from resting in the presence of God when others taught me how to pray. Most especially I began to feel the Lord's closeness through the Sacraments, in particular through Mass and Confession.
When I finally noticed the change within me I asked the simple question, "How did I get here?" It was only through others taking the time to teach me about the faith and inviting me to live it out that I discovered the Good News. And through a series of events everything unlocked: I wanted nothing else in life than to be able to be that person for others.
So here I am. A priest. The chaplain. A mentor. But I am also the son of Scott and Tera. I am the brother of Megan and Abbi. I am the high school student who was just going about my life until someone invited me to see the world through a different lens and to begin to make the faith a real part of my life. What a joy it is to be here at The High School of Saint Thomas More to pray hard, to play hard, and hopefully to be that person for all of our students.
God bless you!
Fr. O'Brien