Athlete of the Week
Matt Vander Vennet
Monday, January 27, 2020
https://www.news-gazette.com/sports/prep-sports/boys-basketball/athletes-of-the-week-kennedy-ramshaw-noah-jackson/article_c54bde55-26d7-53d2-9bee-ff47a5c5483c.html?fbclid=IwAR1X5hdYiNxep70Izb6F6siwJPJrcqyHnEnMOJ0iXBJhe0wjb7FSjeNfaMY
Way to go, Kennedy!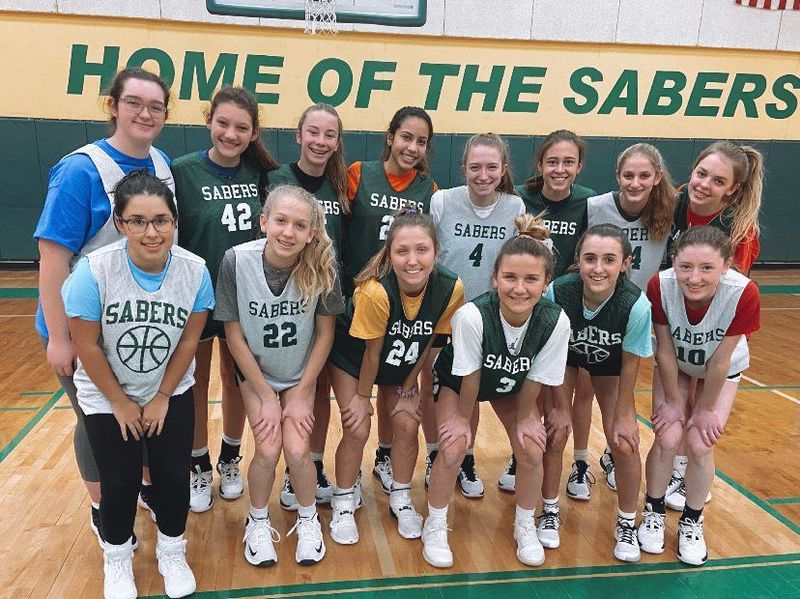 Kennedy Ramshaw | St. Thomas More girls' basketball (4th from left, back row)
Why she's Athlete of the Week: The freshman continued her breakout first high school basketball season with three strong outings across two wins and a one-point loss recently for the Sabers. Ramshaw bucketed 22 points in a 49-32 home victory over big-school Centennial on Jan. 16, put down 24 points in a 51-42 Illini Prairie Conference home win versus Chillicothe Illinois Valley Central on Jan. 18 and tallied 11 points in a narrow 32-31 home setback against Unity this past Monday. Ramshaw and the Sabers are set to get back in action at 7 p.m. on Monday at Monticello in another Illini Prairie game.
From Ramshaw: "I'm really happy with how this season's going so far. At first, it was a little iffy because I was new, I was a freshman. But it's been really great. At first it was only me shooting, but now everyone's shooting. ... It's really great. I love to see how everyone's growing and working hard, and we're just really excelling."
I need tickets to see ... Khalid. I really like his music. It's chill and it's good.
One movie I could watch over and over again is ... "Revenge of the Bridesmaids." I don't know why — I just really like it.
If I could choose one superpower, it would be ... to cut in lines, because I hate waiting in lines.
The social media platform I use most is ... Snapchat. I just like snapping my friends and talking to my friends.
My biggest pet peeve is ... when people say that somebody's food looks gross.
My best basketball memory is ... in fifth grade, I had a game-winning shot. It was with three seconds left and it was a layup, and I made it to win a tournament.
My most embarrassing basketball memory is ... missing a wide-open layup.
Before a game ... I listen to music and sometimes I eat, and I just focus and visualize what I'm going to do in the game.
After a game ... I usually eat again and I just talk with my family about the game.
In five years, I see myself ... playing basketball for a college. I don't know which one.
Honorable mention: Riley Brandenburg, Cerro Gordo/Bement basketball; Jayna Burger, Monticello basketball; Nau'tika Conaway, Danville basketball; Brianna Keeton, Fisher basketball; Hunter Lange, Westville basketball; Ashton Miller, Iroquois West basketball; Sophia Rome, Bismarck-Henning/Rossville-Alvin basketball; Destiny Schlesinger, Clinton basketball; Brynn Tabeling, Tuscola basketball; Payton Vallee, St. Joseph-Ogden basketball.